Learn how to make this easy, stylish side table.  I used a magazine rack as the base and added a painted pine board table top.
---
When I started thinking about this project, I knew I wanted something easy.  It's spring cleaning time, and the grass is growing and needs mowing.  Also, I was away from home and the blog for a while, visiting my sister who is recovering from a medical situation.  And of course, my husband and kids always need tending to.  So I needed an easy project.  In fact, I like the idea of easy projects so much that I'm making a new category called "Easy."  These will be projects that can be done fairly quickly and involve mainly painting/staining (as options to your taste) and assembling by screwing or hammering things together.
The Side Table with Magazine Rack project has three parts:
Choose and prepare the table top
Choose and prepare the magazine rack
Attach the table top to the magazine rack
CHOOSE AND PREPARE THE TABLE TOP
Tools/Supplies (as options):
palm sander
coarse, medium, fine sandpaper (60, 150, 220 grits)
masking/painters tape
spray paint
I chose a piece of scrap "value wood" pine board that I bought at Menards for less than a dollar. It was the perfect size (1 inch x 12 inch x 19 inch), so there was no cutting involved. If you buy a full-length board, you can have the store cut it to the length you need.  My board was kind of a lackluster piece of wood, with not much distinct color, grain, or other character, so I decided to paint it.  Well, I decided to paint the top and bottom of the board, leaving the edges natural wood.
First, I sanded the top and bottom of the board with medium, then fine sandpaper. I sanded the edges with coarse, medium, and fine sandpaper.
Before painting, I covered the edges of the board with masking tape. Normally, I would use painter's tape but what I had on hand was too wide. The masking tape worked fine.
Then I spray painted with Rust-Oleum Ultra Cover, Lemon Grass.
After spray painting, I coated the board with Rust-Oleum Ultra Cover, Clear (semi-gloss) as a protective coat.
Here is a photo of the two shorter edges. I liked how the grain looked and, as I mentioned, I didn't paint the edges.
CHOOSE AND PREPARE THE MAGAZINE RACK BASE
Tools/Supplies:
magazine rack
spray paint (optional)
I bought my magazine rack at St. Vincent dePaul, a second-hand store near my house.  I looked around and found what I think is a similar magazine rack at Bed Bath & Beyond for about $15.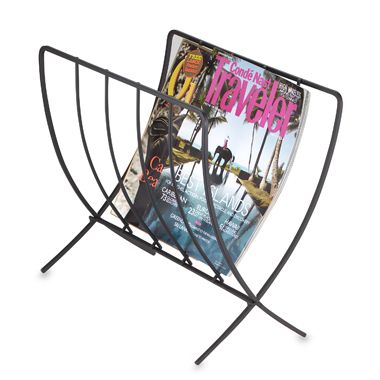 Photo source: Bed Bath & Beyond
The magazine rack for this project can be a style of your choosing, according to your design sensibilities.  Look for one that is sturdy enough to function as a side table base and is structured so that the top of the magazine rack is flat so that the table top can set on it.
My second-hand magazine rack find needed a paint touch-up. I painted it with Rust-Oleum Universal Metallic spray paint, Flat Soft Iron color.
ATTACH THE TABLE TOP TO THE MAGAZINE RACK
Tools/Supplies:
table top
magazine rack
low volt staples (or similar staples)
hammer
I used low volt staples to attach the table top to the magazine rack.
That's it!  It is an easy side table that you can easily make. Be sure to stop by again for more DIY furniture and decor tutorials.